Clover Health's first onboarding guide for new hires— chock full of information about the company's mission & ethos, history, personal stories from members, and how teams work with members and providers to deliver the best healthcare possible. In collaboration with the Employee Experience team, I led the design and art direction of the book.
This was one piece of a comprehensive onboarding experience to catch up the many new people in our 5 offices at the time (San Francisco (HQ), New Jersey, Texas, Georgia, and Pennsylvania) who had joined the company over the last year.
Series of section dividers that dove into the 5 categories: Members, Medicare/Industry, Partners, and Internal Culture. Each section was color-coded with a triad of Brand hues, one of the main visual elements of the identity. In collaboration, I concepted and art directed these illustrations with the talented Cari Vander Yacht.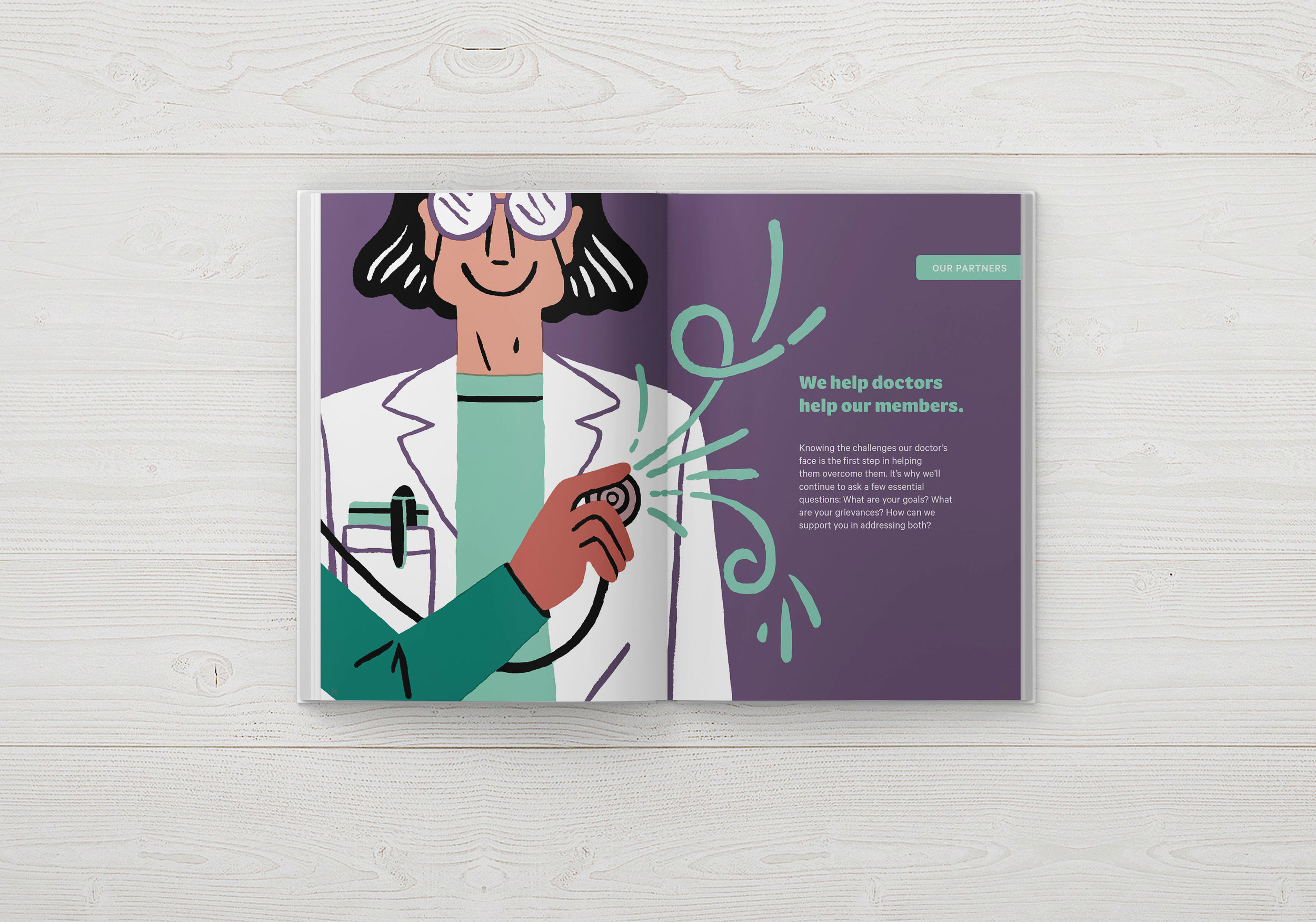 Selected spreads. Above, Clover's mission statement, in detail.
We held phone interviews with members to get a better understanding of what a day in their life was like— dealing with the ups and downs of their health and medications, immigrating to the US, their relationships to their family, to show that the "users" we were caring for were real people with rich stories to tell.
An entire section of the field guide was dedicated to understanding the complexities of Medicare to empower all new hires to become experts of the industry themselves.
All the different parts and pieces of Medicare. This page was developed as a fold-out spread.
The emphasized importance of working in a government-regulated space and why it matters. Every section had a spread designed in this template to explain how every team contributed to the company.
One central place to know all the shared internal products and tools to work as effectively as possible.
A note from our CTO about the value of transparency, context-setting, and creating a culture of self-service.
Additional parts to this experience would include:
a small welcome package that was mailed to new hires after they accepted their offers, "Clover Day": in-person sessions in the office that offered a Q&A opportunity and deeper dive into each category, and a swag bag for their first day.